Join us for our centennial year celebrations
Throughout 2021 we will be hosting events and activities highlighting The League's accomplishments and milestones over the last 100 years.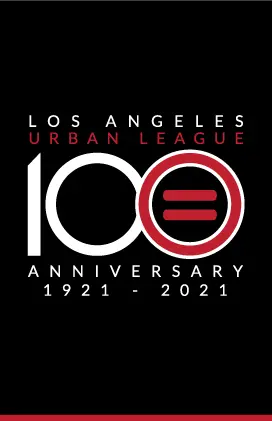 Invest in Los Angeles and help us empower our underutilized communities
with jobs, training and small business resources.
For 100 years, the Los Angeles Urban League has served as a vocal advocate for African Americans and other minorities by making sure our communities have access to careers with living wages, opportunities to start and grow successful businesses, and pathways to personal and professional growth. As we celebrate our Centennial year, we carry on the fight for economic empowerment that past generations started and continue to build bridges between people of color and the opportunities to better their lives.
Our Centennial…
is an opportunity to celebrate with our community, friends and supporters. Throughout 2021 we will host events and activities highlighting The League's accomplishments and milestones over the last 100 years. If there is one thing that 2020 has taught us, it is that tomorrow isn't promised and we must take the time to celebrate and connect, knowing that there is still much work to be done.
Your investment…
in the League's Centennial campaign is a tangible way to partner with us to support communities striving for justice and equity today and for the next 100 years. Because we know that our communities are stronger and more viable when all people are afforded the opportunity to realize their goals of economic development and sustainability.
Partner With Us As We Plan for the Next 100 Years
Download our Centennial brochure to learn about investment, partnership and sponsorship opportunities for the Los Angeles Urban League Centennial Celebration & Campaign.
Your Story…
is our story. Throughout the past century Los Angeles Urban League has helped hundreds of thousands of Angelenos get their first jobs, build businesses in their communities, and gain the education and resources necessary to improve their quality of life. If The League has impacted your life we would love to hear your story.
"I would like to thank you so much for the opportunity to attend and compete in the Biz Camp a few summers ago. I didn't see it then, but business has had a real calling on my life. It is my major now at Dillard University. I have at least 5 classes that are all business related from economics to accounting, and the things that I learned so long ago at Biz Camp have come back to give me a slight edge in my classes. So once again I would like to thank you and all the other staff."
– ELIJAH JOBE, BIZCAMP PARTICIPANT
Tuskegee Industrial Welfare League
In June 1921, the Tuskegee Industrial Welfare League merged with the National Urban League and became known as the Los Angeles Urban League (LAUL) with Katherine Barr as its first President.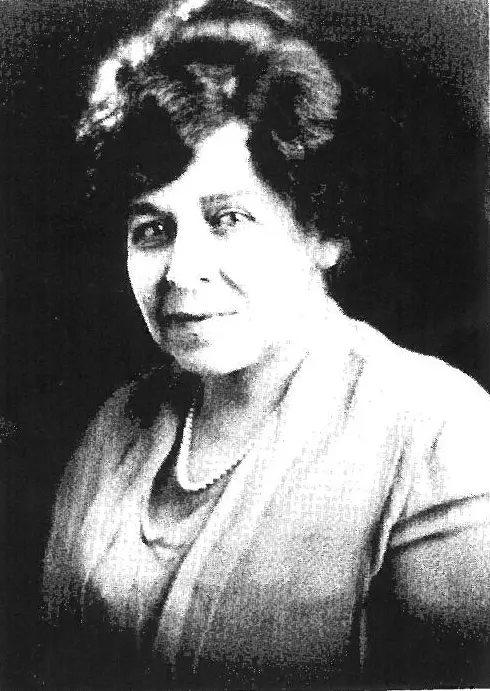 Katherine Barr, Founder,
Los Angeles Urban League, 1921
News clip from Los Angeles Evening
Herald, Saturday, June 18, 1921
1931-1950
Under Floyd Covington's leadership Los Angeles Urban League adopted new business models, expanded programs, and grew exponentially to serve a growing population.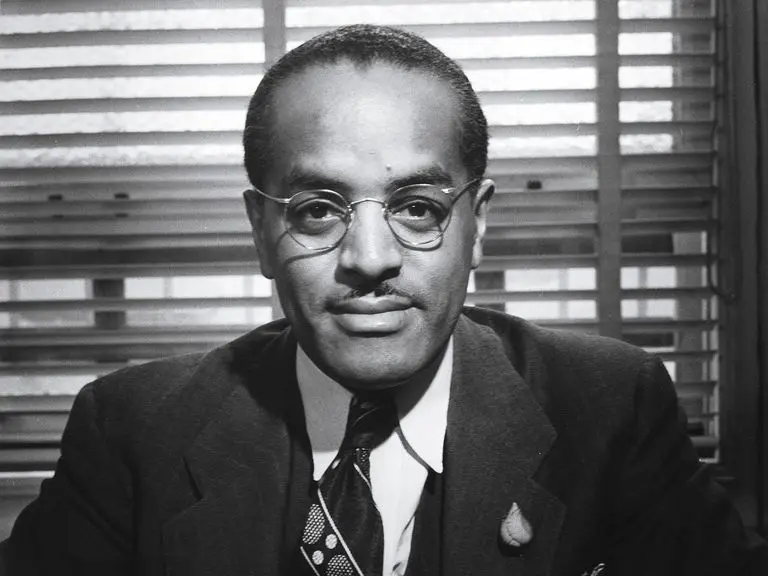 Floyd Covington, Executive Director,
Los Angeles Urban League, 1931-1950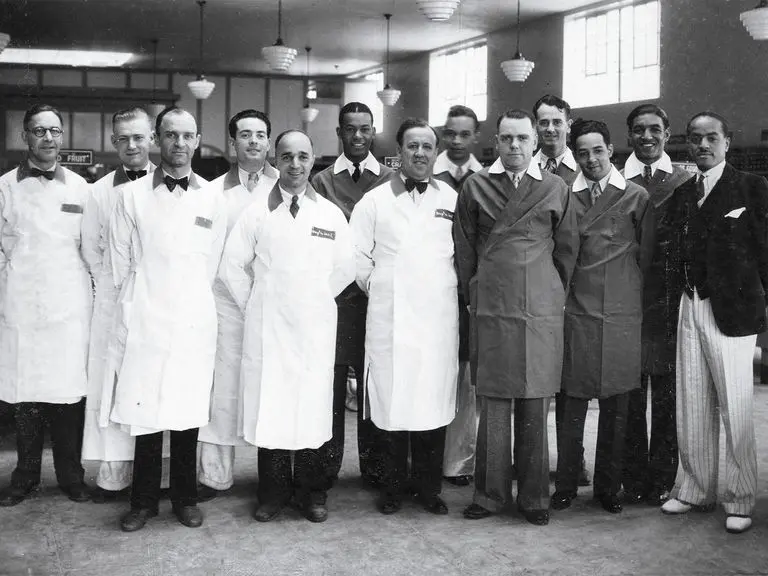 Covington (far right) with clerks at Pay 'n Takit, a Los Angeles store whose workforce he helped integrate, 1933.
1950 - 1968
Wesley Brazier served as the Urban League Executive Director from 1950 to 1968. With a focus on workforce training and placement, and discrimination in housing, health, and education. Brazier set the tone for expansion and change for LAUL and the Civil Rights Movement in 1960s Los Angeles.
From left to right: Wesley R. Brazier, executive director; Dr. Leroy R. Weekes, president; James E. Payne, director; George E. Bryant, program chairman.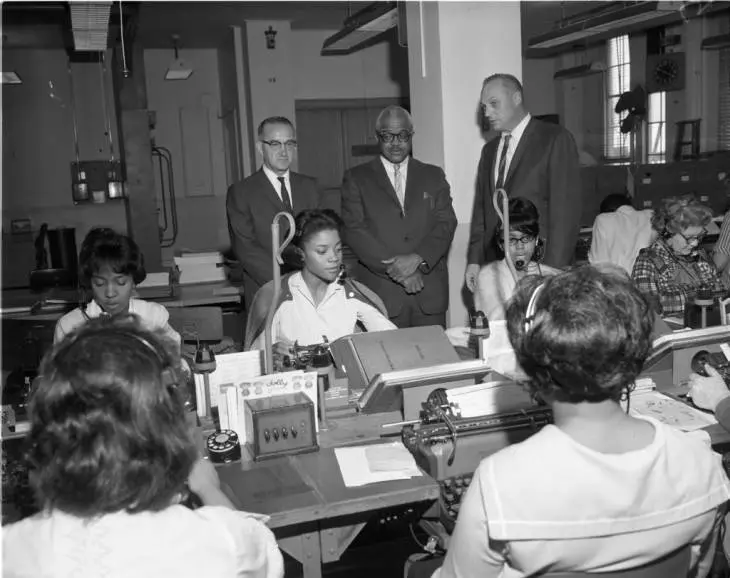 Wesley Brazier, center, at Los Angeles Western Union Telegraph, 1965
The John Mack Era
The Honorable John W. Mack led LAUL for 36 years from 1969 until his retirement in 2005. During his tenure, LAUL experienced incredible growth. A consummate bridge builder, Mack was able to create connections with disparate groups and he made sure that communities of color were represented in small business, corporate board rooms, and city hall. From Mayor Tom Bradley through Mayor Richard Riordan to Mayor Antonio Villaraigosa, he always worked to find common ground and create positive change.
John Mack, right, shows President George H. W. Bush around South Los Angeles in the aftermath of the 1992 civil unrest.
A champion of police reform throughout his career, John Mack, center, would become President of the Los Angeles Police Commission in 2005 after retiring from LAUL.
Moving Forward
Under the leadership of Michael A. Lawson, Los Angeles Urban League is now poised to begin, again, the journey that started in 1921 under its first leader Katherine Barr – to help the underserved communities in Los Angeles to participate to the fullest extent in American life by helping to change the social and economic conditions of their environment
Thanks to the support of our corporate and community partners, donors, volunteers and staff, Los Angeles Urban League continues to educate and empower African Americans and other minorities to secure economic self-reliance and civil rights by providing targeted social programs and advocating for issues that benefit our communities.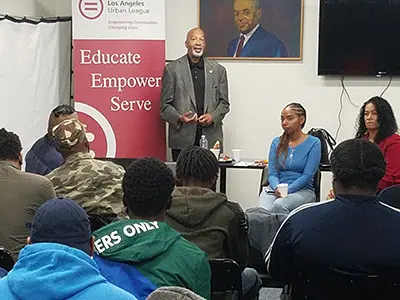 President and CEO Michael Lawson welcomes students to a new session of Construction Career Academy for students looking to get union jobs in a construction trade.
Los Angeles Urban League signing students up
for college and providing financing and admissions information.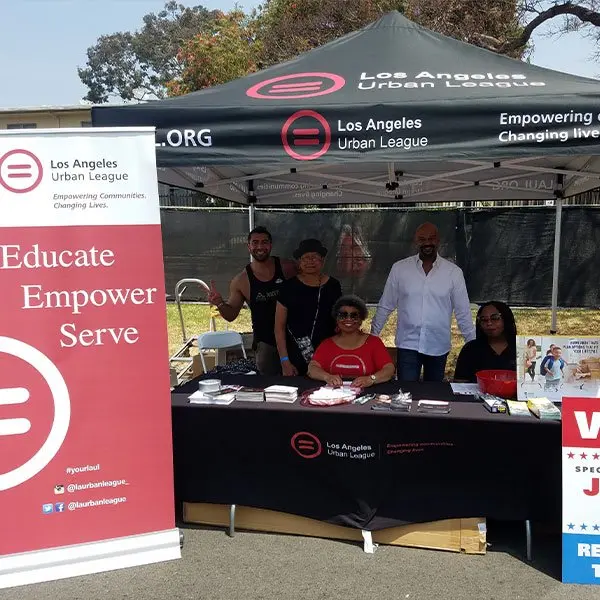 Urban Leaguers in the community at Get Out The Vote events to register voters and share information.