Youth Entrepreneurship
Biz Institute & Biz Camp
Now taking applications for Biz Institute Fall 2023
Apply Today
I am applying to Biz Institute
Cost: FREE
Applications: Open
Begins: Sat., October 7, 2023
Days: 1st and 3rd Saturdays
Hours: 2:00 p.m. – 5:00 p.m.
Biz Institute is a free intensive virtual year-round program for students ages 13-18 years. It includes interactive activities and guest speakers aimed at providing students with a solid business background and ultimately launching their businesses. This program is intended for students who have a business idea and seek the push to make their venture successful.
At this time, two competitions are slated for youth participants that will commence this spring.
In addition, Biz Institute participants have the opportunity to compete in the NFTE YEC City-wide Competition with a first prize of $2500.
Become a Volunteer!
Fill out this form to register to participate as a Speaker, Business Plan Coach or a Business Judge for our Young Entrepreneurs in Biz Institute or BizCamp
I am applying to Biz Camp
Applications for BizCamp Summer 2023 have closed
Biz Camp is a free four-week entrepreneurship summer camp for boys and girls ages 13-18 where students learn how to turn their ideas into reality through planning, analysis, and real-world application of what they learn in the classroom.
Location:
Da Vinci Schools
201 N. Douglas Street
El Segundo, CA 90245
Cohort 1:
Monday, June 12 – Friday, June 30
Class time: 8:30 a.m. – 12:00 noon
Business Plan Competition on June 30
Cohort 2:
Monday, July 10 – Thursday, July 27
Class Time: 8:30 a.m. – 12:00 noon
Business Plan Competition July 27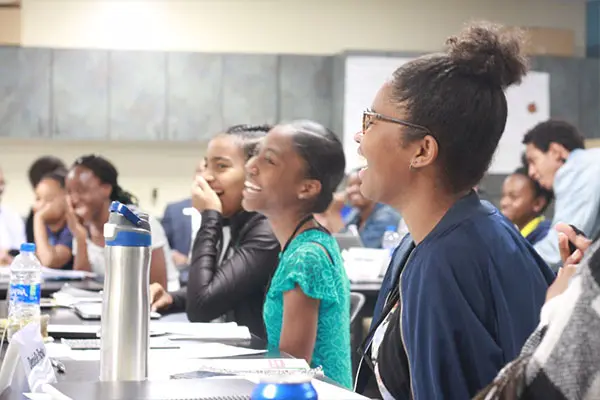 Application Process
The Biz Institute selection committee will review all applications and recommendations. Selections will be based on the applicant's answers to the essay questions and their recommendations. Please complete the application in its entirety. Incomplete applications will not be considered.
Mandatory Parent and Student Interview:  Interviews for the student and the parents must be conducted prior to acceptance into the program.
If selected to participate, you must agree to complete the program in its entirety.
Rhonda Holbert
For 25 years Rhonda Holbert served as Director of Special Projects for the Los Angeles Urban League where she collaborated with business community leaders to form LA Collaborative. She also facilitated and lead business development learning, managing and implementation of new business opportunities in addition to facilitating educational workshops and programs.
Crystal Mitchell
Crystal Mitchell is a business professional and the owner of Mitchell Business Solutions. She is also the co-director of Recycling Black Dollars, a non-profit business that aids in the economic development of the African American community by encouraging support of Black businesses. As a small business coach and consultant, she provides entrepreneurs with access to the necessary tools, mentorship, and resources that support each stage of their business' development to ensure growth and success.
"The Urban League taught me to not only believe in my business, but also to believe in myself. It has shown me that entrepreneurship can be profitable."
"BizCamp helped me gain a new view and mindset about starting a business. It has shown me that there is more to a business than a good idea."