Los Angeles Mayor Eric Garcetti recently announced a "Safer at Home" order, which effectively closes all nonessential businesses in the city to help stop the spread of the coronavirus. Fortunately, restaurants, cafes and markets are considered essential and can remain open.
Today, many restaurants are having to quickly adapt operations to a strictly take-out and delivery model, which means a loss of critical dine-in revenue for the coming months.
"Restaurants operate on razor thin margins and many establishments will struggle to survive this pandemic," said Michael Lawson, president and CEO of Los Angeles Urban League. "Without government intervention and public support, the current COVID-19 restrictions may force some of our favorite restaurants to close their doors forever."
A recent Bloomberg News analysis reported that there are more than 800,000 hospitality workers in LA and Orange County representing almost 13% of our total workforce. Nationally, there are more than 15 million hospitality workers whose jobs are at risk.
The National Restaurant Association estimates the industry will lose $225 billion over the next three months while five to seven million workers will lose their jobs.
"There's a lot of uncertainty now, but we can find a little comfort in ordering our favorite dish or visiting our local cafes to pick up a coffee to-go," said Lawson. "Let's do our part to keep our neighborhood eateries open for business during this critical time."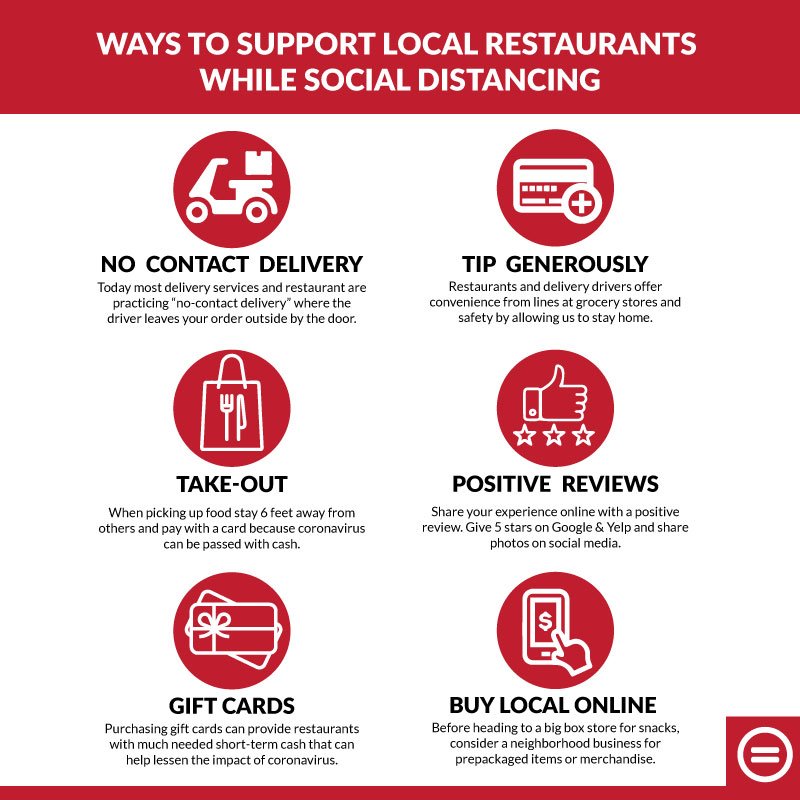 Here are six ways you can help your favorite restaurants get through this pandemic.
Order No-Contact Delivery
Delivery services such as Postmates or DoorDash and many restaurants are already practicing "no-contact delivery" where the driver leaves your order outside by the door. This eliminates any personal interaction between you and the delivery person. To further limit any exposure to the coronavirus you should throw away the packaging and always wash your hands before eating.
Order Take-Out
If you decide to venture out for drive-thru or pick-up, Johns Hopkins University is recommending a distance of at least six feet from other people, including other customers and restaurant personnel. When paying, be sure to use a debit or credit card as the coronavirus can be spread through cash.
Shop Local Online
Before heading to Amazon.com, Wal-Mart or Target for your snack items, consider a neighborhood business, instead. Many restaurants and cafes have an online store where they sell their own branded, prepackaged items. In addition to food, if they have merchandise for sale, buy a t-shirt or coffee mug to show your support.
Tip Generously
In today's world, restaurant workers and delivery drivers help provide a sense of normalcy and comfort. They offer convenience from long lines at grocery stores and safety by allowing us to stay home. Be sure to say, "thank you" when you can and tip them generously for the service they provide.
Spread the Word
If you had a great experience or even one that simply met your expectations, leave a positive review. A five-star review on Google can boost a restaurant's search ranking and help other's find them as well. A positive review on Yelp can do wonders for a small cafe looking to grow their local following. There's also Facebook, Instagram and other platforms where you can share your experience and spread the word.
Buy Gift Cards
Purchasing gift cards can provide restaurants with much needed cash that can help lessen the impact of Covid-19. If you can't buy from your favorite eatery today, try buying a gift card for a meal once the pandemic passes.
Below are a few South Los Angeles restaurants that are open for business.
https://earlesrestaurant.com/
http://www.fiestamartinmexicangrill.net/
https://hotandcoolcafe.com/
https://www.southlacafe.com/
https://www.crusteeseatery.com/
https://www.eatcomfortla.com/
https://www.findyourhilltop.com/
https://www.hotvillechicken.com/
http://orleansandyorkdeli.com/
https://www.southerngirldesserts.com/
https://www.simplywholesome.com/
https://www.dulans-sfk.com/
https://www.mrfriesman.com/