Discover how our former Bizcamper, Amylah Charles, transformed her dreams from a bedroom pitch at 16 to impressing investors in Austria at the age of 19 as the CEO of Curly Crownz. Her journey has been defined by unwavering determination and a commitment to larger-than-life aspirations. As she stated in her social media video, "I always knew my dreams were bigger than hair."
Amylah's story exemplifies the power of resilience. The young entrepreneur mentioned, "It took research and rejection. Rejection that turned out to be devine redirection." She was handpicked by our valued partners at the Network for Teaching Entrepreneurship (NFTE) to represent her talents on the global stage at the "Youth Start European Entrepreneurship Awards."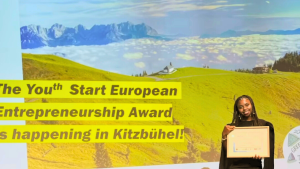 As Amylah asserts her authority on her journey, we firmly believe that her path will continue to shine with excellence, ensuring success accompanies her every step. For everyone reading this blog, do know that your contribution at our organization plays a pivotal role in turning dreams into reality. It enables our dedicated BizCamp Advisors and Consultants to guide and mentor young talents like Amylah.
The Los Angeles Urban League is a catalyst for empowering communities and changing lives, fostering international success stories like Curly Crownz Hair Care. Amylah's remarkable achievement serves as an enduring source of motivation and inspiration.
We extend our heartfelt congratulations to Amylah for her outstanding accomplishments. Watch her full video here and follow her instagram page to learn more about her business and story here.
Her success demonstrates the impact of your support. If you're inspired to help shape more success stories like Amylah's, consider becoming a monthly donor by visiting: https://laul.org/donate/.
Together, we can continue changing lives and shaping brighter futures.
.