"Honoring Unsung Heroes: Los Angeles Community Celebrates Visionaries in Community Service and Leadership"
(LOS ANGELES, CALIF.) OCTOBER 27, 2023 — The New Frontier Democratic Club held its 63rd  Annual Fundraiser Gala in honor of renowned leaders, including Ambassador Michael Lawson, Chief Executive Officer of the Los Angeles Urban League, for his outstanding community service and leadership to greater Los Angeles area. New Frontier's chosen theme for the evening was Reparations Now! Equity, Education, and Democracy for All, which characterizes the many chapters of his life-long career sealed by the Los Angeles Urban League. The 2023 Annual Gala was emceed by veteran actor, Richard Lawson, who has been a beacon in the world of entertainment and education. Ambassador Michael Lawson received this award among friends, family, and 500+ other guests in the Tuskegee Ballroom of the Proud Bird event center.
(Left to right: Dr. Michael Davis, Congresswoman Barbara Lee, Mrs. Mattie Lawson, Ambassador Michael Lawson, Honorable Lola Smallwood-Cuevas, Emerson B. Luke, Esq.)
The Honorable Lola Smallwood-Cuevas, 2023 California State Senate, 28th District, presented Lawson with his prestigious award. In his acceptance, Ambassador Lawson focused on his commitment to leading with purpose and the memory of those for whom shoulders we stand. Since stepping into the CEO role in 2017 at the Los Angeles Urban League, Lawson has been a champion of advocacy, education, economic empowerment for his community. "If you see a turtle on a fence post, be pretty sure it didn't get there by itself. And to a great extent, that's who all of us are.  We are here, I am here, because of someone I don't know has helped me to get to this position," said Lawson. "That is what the Los Angeles Urban League does for its people."
The New Frontier Democratic Club Annual Gala is about community service and leadership. A distinguished group of speakers paid tribute to Ambassador Lawson and other honorees, including Danny Bakewell, Jr., Executive Editor & Chief of Staff at one of the largest black-owned newspapers, The Los Angeles Sentinel; Ed Johnson, one of the founders of the California Democratic Party's African American Caucus; and Kamilah V. Moore, Esq, Chairperson of the California Reparations Task Force. Distinguished speakers and guests included the honorable Maxine Waters, Unites States Congresswoman, 43rd District. She displayed a special gesture, honoring the New Frontier Democratic Club President, Dr. Michael Davis (ret.), with a pair of United States House of Representatives cuff links. "The NFDC is what keeps us together, not only to support those who are progressive, or running for office, but also those that have in mind what their job and their responsibility is to all of us." Waters goes on to introduce Congresswoman Barbara Lee, 12th District. Lee referenced Lawson's life-long work of service. "Whether it was here in this country, Los Angeles or abroad, you deserve every bit of love, gratitude, and time off with your wife, Mattie. Congratulations to you!" She also gave honor to Ambassador Lawson's seatmate, Former U.S. Congresswoman, and foreign ambassador Diane E. Watson, "You're still on the battle ground!", she exclaimed.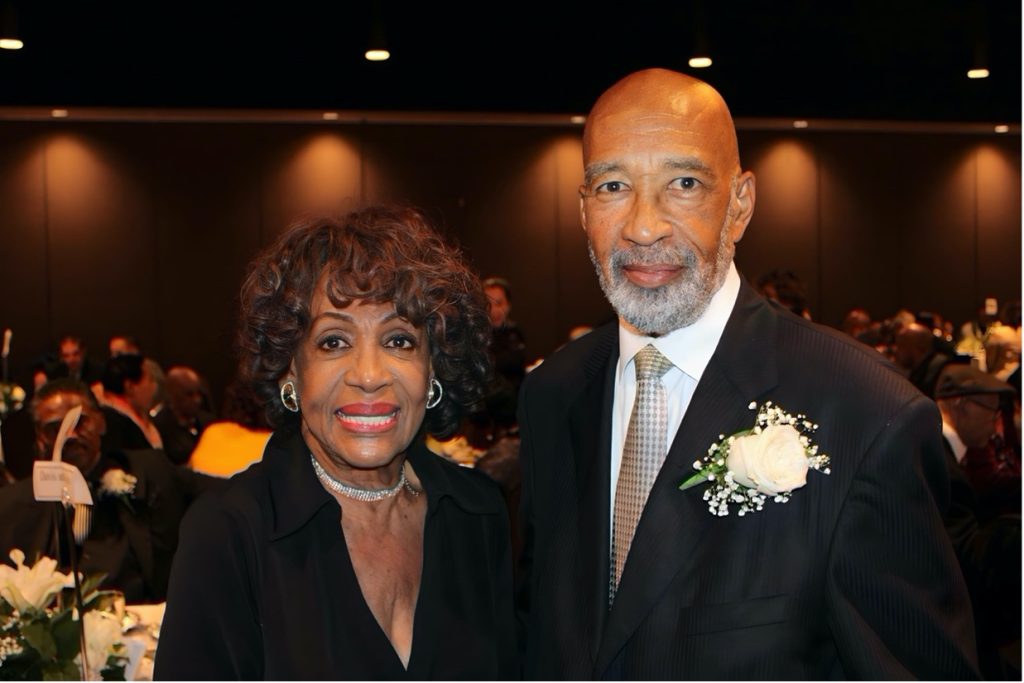 (Left to Right: Congresswoman Maxine Waters, Ambassador Michael Lawson)
Mr. Lawson did not fail to acknowledge his team that, "has put the Los Angeles Urban League back on the books and that's going to take it to the next level. We have just gotten started and I'm excited about what they're going to do!" Based on the traction, his new Chief Operations Officer, Cynthia Mitchell-Heard, who was front row in support, is certainly ready for the level of responsibility.
The evening also featured remarks from the impressive California State Controller, Malia M. Cohen. "California is 40 million people strong and the backbone of the state of California is right here in this room. Be uplifted and encouraged as we go into the 2024 election cycle. Pay attention, think critically, engage, and get our young people out to the poles," said Cohen. Senator Steven Bradford, California State Senate, 35th District Vice Chairman, California Legislative Black Caucus and Yvonne Wheeler, President of Los Angeles County Federation of Labor, and several more were in attendance as well.
(Left to Right: Emerson B. Luke, Esq, Ambassador Michael Lawson, Congresswoman Maxine Waters, Malia A. Cohen, Dr. Michael Davis, Congresswoman Barbara Lee, Richard Lawson, Senator Steven Bradford)
For more information about the Ambassador Lawson's honor, please visit laul.org/news or contact LaCora Stephens at lacora.stephens@laul.org, (323) 299-9960 x1001.
# # #
About The Los Angeles Urban League
The mission of the Los Angeles Urban League, which is an affiliate of the National Urban League, is to help African Americans and others in underserved communities achieve their highest true social parity, economic self-reliance, power, and civil rights. The League promotes economic empowerment through education and job training, housing and community development, workforce development, entrepreneurship, health, and quality of life.